[All opinions expressed are my own and not those of any employer past or present]

What's my tribe?
What makes you feel like you fit in? What gives you a sense of belonging?
This is an interesting time in the search for identity. As a species we're learning that binary notions of personal identity are insufficient to encompass the rich variety of humanity. On a national scale Brexit, immigration and independence all pose searching questions of our individual and collective identities as citizens of the United Kingdom. Interesting, but also confusing.
I'm the child of immigrants. Gen X. North Londoner (the prefix is important). Right-handed. Short-sighted. Muslim. Shia. The labels go on. The last two are core and a matter of opinion between me and my God, so let's put those to one side.
I was born and raised here. I feel British. With a little less certainty post Brexit, not through any change in the environment that I have witnessed but because things I believed about the country have been proven untrue. And a little more British since watching Man Like Mobeen on BBC3.
Let's focus on the more, because these are bleak times and something positive will lift the mood.
We're all doomed
A friend recently commented that Temple of Doom is the worst Indiana Jones film. I was momentarily perturbed, largely because this was never a question I had thought about. Perturbed also because it is the one set in India, with all the brown people. "Kaali Maan" and all that.
There was a time when I loved that movie. There were people who looked a bit like me, who spoke the language (near as) that I spoke with my mother, and they were in a Hollywood blockbuster movie. The clothes in the palace were like going to a family wedding. For a while that was enough. It was sufficient to have my people acknowledged, their existence presented to a worldwide audience.
Watch it with a modern eye and it is a racist monstrosity almost on a par with the live action Aladdin.* Lazy tropes and incoherent assumptions abound. Chilled monkey brains, anyone?
The rope bridge scene is still pretty good though.
A thousand apologies for what we used to watch
It got me thinking about the comedies we used to enjoy in the 70s and early 80s. Two deeply contrasting shows spring to mind. It Ain't Half Hot Mum was set towards the end of the second world war and followed concert party attached to a military unit in India and Burma. We watched it because it was one of the few ways to see brown faces on TV back then, and there were only three channels anyway.
It has not aged well. The late Michael Bates in brown face spouting "comical" Hindu proverbs in a terrible accent is a particular low point. But at the time it was an acknowledgement, the war in Burma was real, and our people were involved. That the acknowledgement came with a heavy dose of caricature and Johnsonian language was less important to us then than the fact that we were present on the screen beamed into British households.
The contrast with Mind Your Language is stark. This show was set in a night school teaching immigrants English. A veritable UN of races was represented. We loved it. Tropes still ran rife, with each race moulded in it is stereotypes. (e.g. The Frenchwoman was a magnet for the men.) And because people of colour are interchangeable you had a Sri Lankan actor playing a Sikh, and a Chinese actor playing a Japanese executive.
It would not be made in the 21st century (live-action Aladdin notwithstanding**) but we did love it. It put a lens on a very authentic part of the immigrant experience: the trials and tribulations of learning English. I watched my mother go through the same process. Its authenticity put it in a different league to It Aint Half Hot Mum. Everyone I've asked misses that show, sometimes you can live with the caricatures and stereotypes.***
And therein lies the shortcoming Temple of Doom, it is a hodgepodge of half-understood cultural references selectively thrown together for a generic evil eastern religion. There aren't enough snappy lines from Short Round to save it.
When we were naïve and insecure in our place, uncertain of ourselves, it was enough to be seen. We've grown, matured as citizens, and now we want more. We want to be represented as we are.
How Audacious
The first step on the road to inclusion came with Goodness Gracious Me, four British Asian actors poking fun at white British attitudes, and the plethora of Asian idiosyncrasies imported into British life. This was comedy in our voice and everyone was listening.
It also shaped British Asian culture, and perhaps British culture as well. "Going for an English" is both funny as a sketch and a blistering critique of endemic racism. The recurring characters, Mr India, the Coopers, auntie with her aubergine were all people we knew, and now we had a frame of reference to talk about them with non-Asian friends. More than that it shaped language. An idiot is now "Muppet-ji" and if you disagree you can kiss my chuddies.
(Side note – in a conflation of the very white fictional sport Quidditch, and the very brown GGM, I call my kids the Chuddly Cannons.)
For the first time sub-continentals on British soil were portrayed with their authentic voice.
Everyone loves French hot bread****
It's that authenticity in representation that makes me love Man Like Mobeen. Let me be clear, I'm not a convicted felon, nor from the midlands, nor raising my kid sister. The true gift in MLM is its post GGM use of language. Subtract the swear words and that easy flow between English and Urdu demonstrated by Guz Khan (and in the latest season Art Malik) is the hybrid language I and my family use. With certain friends the swear words come back into play.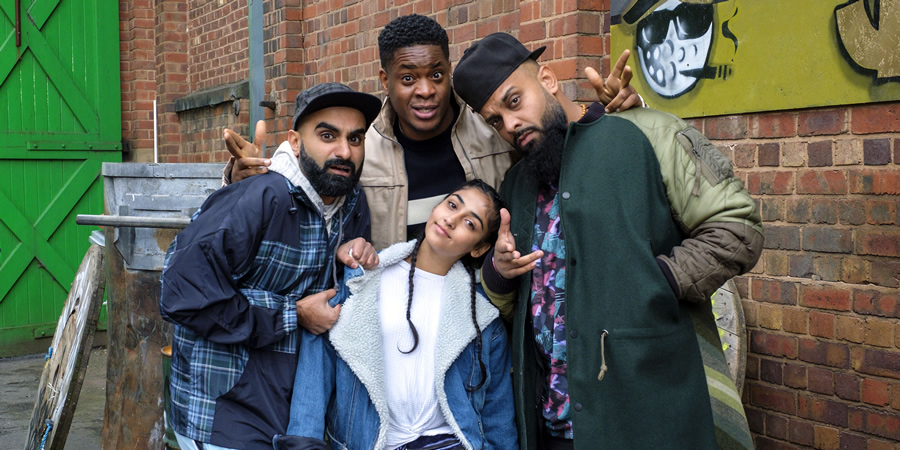 We relate to the challenges and contradictions he faces (without the gangland criminality stuff, just to be clear Ms Patel). He is us. And therein lies the sense of belonging. Our voice, our struggle, our absurdity is on the screen in the way that we experience it.
People like me, living their lives here, shown on TV. Shown as we are, not the way someone thinks we are or heard we might be.
On paper Citizen Khan should achieve the same thing. Also set in Birmingham and with that Muslim vibe, it could have been a vehicle to provide true representation. Unfortunately it just isn't funny. We're no longer so hungry to see ourselves on screen that we'll tolerate rubbish. That's also a sign of feeling we belong.
END
* The cultural references in Aladdin span from Turkey to India, from Central Asia to Egypt, because ten million square miles of diversity is still just a bunch of brown people.
** Disclosure: I have written two modern djinn stories and two Arabian nights homages. Judge for yourself if I fell into the same traps: An Absolute Amount of Sadness, Désolé Habibti, Ali Baba and the Little Thief and Adiha and the Three Djinn
*** Fun fact: Dino Shafeek was in both
**** Pain Chaud. It shouldn't be funny, it is.
This time really the END
Find out more about my writing here